Splunk Services in FSI
Splunk brings clarity to your digital universe.  There are 94 different examples of how it can be used to deliver value through data analytics in financial services. It is more than just a platform for IT and Security, it can help run your business.
Apto provides services to design and implement Splunk in FSI or amend the Splunk Essentials App or what you have.  We are an accredited Splunk Partner and have a wide array of Consultants that meet any data challenge technically, but more importantly help you have much better insights into your business.
Its a 4 stage Journey
Stage 1 Search & Investigate
No-one is short of data, you have that from multiple sources, you need somewhere for it to reside to be able to colloborate, correlate
Stage 2 Proactive
Sending data, analysing it, to be more proactive, action automatically (AI) or at the very least more quickly.
Stage 3 Visibility
Its not just IT, SecOps that need visibility lots of stakeholders want insight….
Stage 4 Insights
Now let those data sources be delivered and presented, correlated to those that manage, create and run those key performance indicators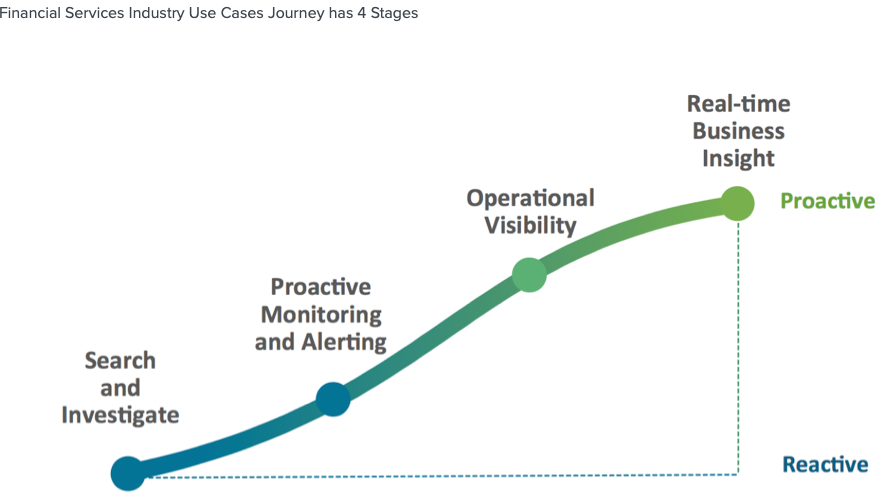 Wire Transfer Fraud
Wire transfer fraud is when criminals concoct a scheme to obtain money based on false representation. This criminal act is done using electronic communications. Our examples demonstrate use case contain scenarios that should be investigated immediately for potential fraud.
MFID
MFID/MFID2 are regulations for electronic trading in EMEA. One standard requires firms to show that servers all have time settings that vary no more than one MS from UTC. Another standard requires firms to execute trades at the best possible price among exchanges.  We have 5 examples that can be shown.
Transaction Statistics
This use case provides a wide variety of measurements for a hypothetical 4 step banking transaction. Just a few of these statistics include the average duration or a transaction, the number of steps in a transaction and the highest number of transactions completed by customer.
ATM Fraud
From suspicous activity detection to downtime by incident type.

And So On….
Splunk and its applications are unlimited in the financial services communities, many using them for compliance and trade order management.  We also offer a comprehensive support service and help many clients with cloud management costs and optimisation as well, another added benefit.
Contact Us
An initial discussion with us very rapidly allows you to assess us, our services and experience. There are no high pressure sales, we are all consultants, we'll get the right person talking to you in no time at all.
See how we can build your digital capability,
call us on +44(0)845 226 3351 or send us an email…
22 September 2023

1 September 2023