Approach
In our experience customers who are successful in getting value from their data and deployment of tools to deliver this, must consider three different areas:
their data and information requirements;
the people and skills required to interact with such tools or platform, and;
the platform and technology eco-system itself.
In practice the development of these themes is best addressed incrementally over a period of time as part of an overall roadmap to achieving visibility of organisational data and improved exploitation of information.
Success Programme
To help Apto clients achieve this we have developed a Data Success Programme which delivers incremental advances through:
focused technical account planning and ongoing engagement so that we best understand your needs and objectives, helping you define a roadmap for extending visibility and information exploitation;
This is delivered through structured, planned improvements to deliver significant advances to your data platform deployment focused on a specific topic or area of interest; described in the "Implementation Cycles" section below. Underpinning this, are themes to aid the roadmap, typically that we have used at customers previously and refine for each customer.
Surrounding this is optional proactive care of your data environments and toolsets so that it remains in good health and issues are found and fixed pre-emptively where possible, this is provided by our "Proactive Care Service", where unexpected issues occur or additional support is required;
Implementation Cycles
Implementation cycles are the iterative and incremental approach to achieving an outcome, you the customer require.  Themes typically drive the outcome they maybe initially healthcheck, remedial work, but as part of a roadmap become far more strategic e.g. cloud migration, IT Operational Compliance, data enrichment etc.  Overarching the cycles is the optional – but beneficial – Proactive Care Service.  The driving force to this approach is manageable, incremental work packages to your strategic roadmaps for data.  You may accelerate or pause the velocity of these cycles at any point, to cater for any resource constraints.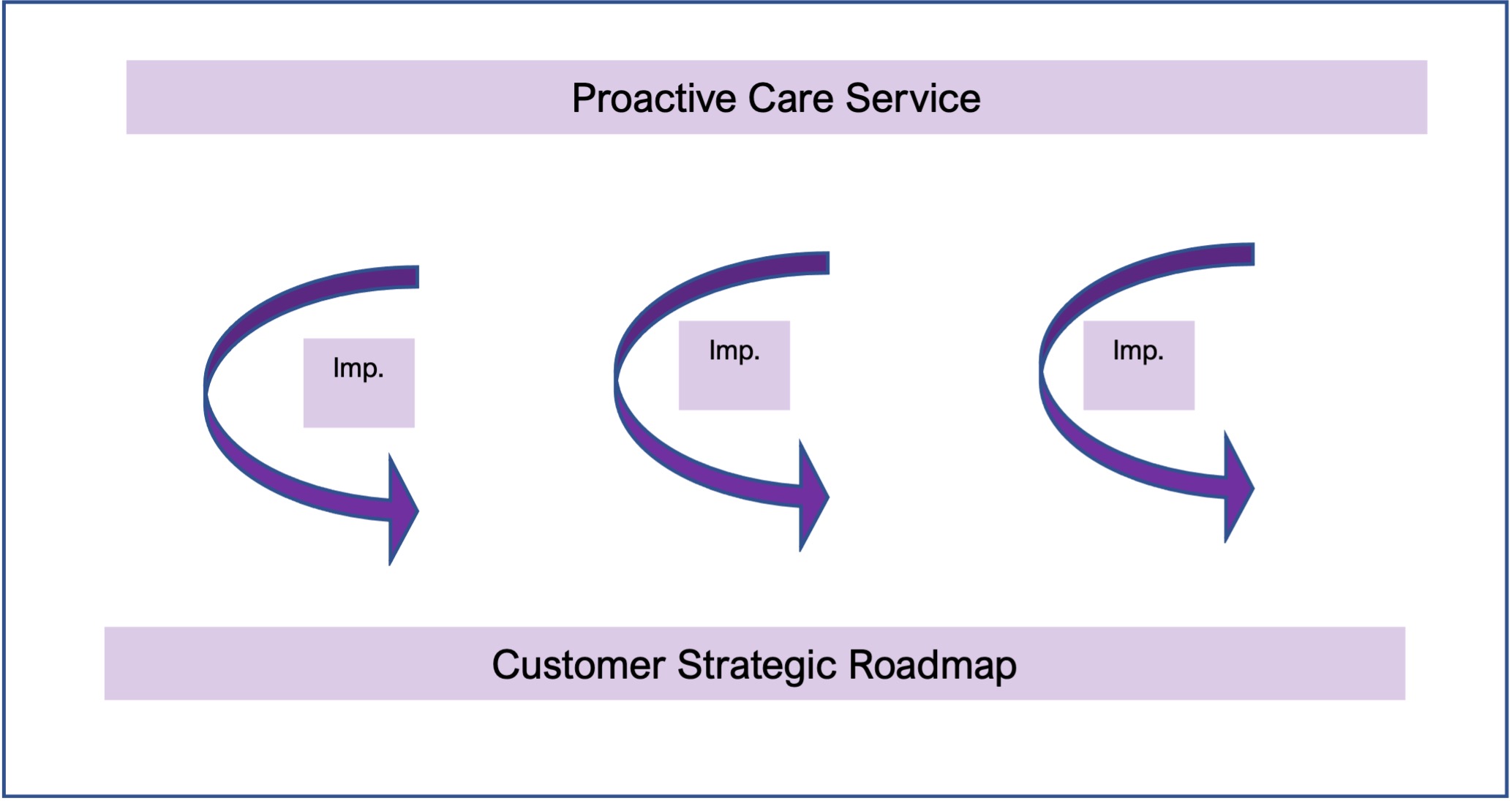 Key benefits of this approach are
No dependency on a single person and point of failure
Less management overhead for you, the customer, of having to manage a single resource and plan their work
Joint responsibility between you and Apto for achieving the outcomes that you need
Greater knowledge of your environment and how you operate is disseminated into Apto, providing reassurance that you will always have help at hand
More cost-effective delivery using the right skill level at the right point – customers don't need the same level of expertise for all activities. Using this approach we bring the right people with the right skills into the delivery.
More flexibility in velocity of delivery. Delivery can be sped up or slowed down to meet your needs
Clear accountability for delivery of outcomes which can be tracked by you
Access to greater breadth and depth of knowledge within Apto – we can bring in an expert if there is a particular challenge
Activity Phases
Each Implementation Cycle is broken down into the following activities.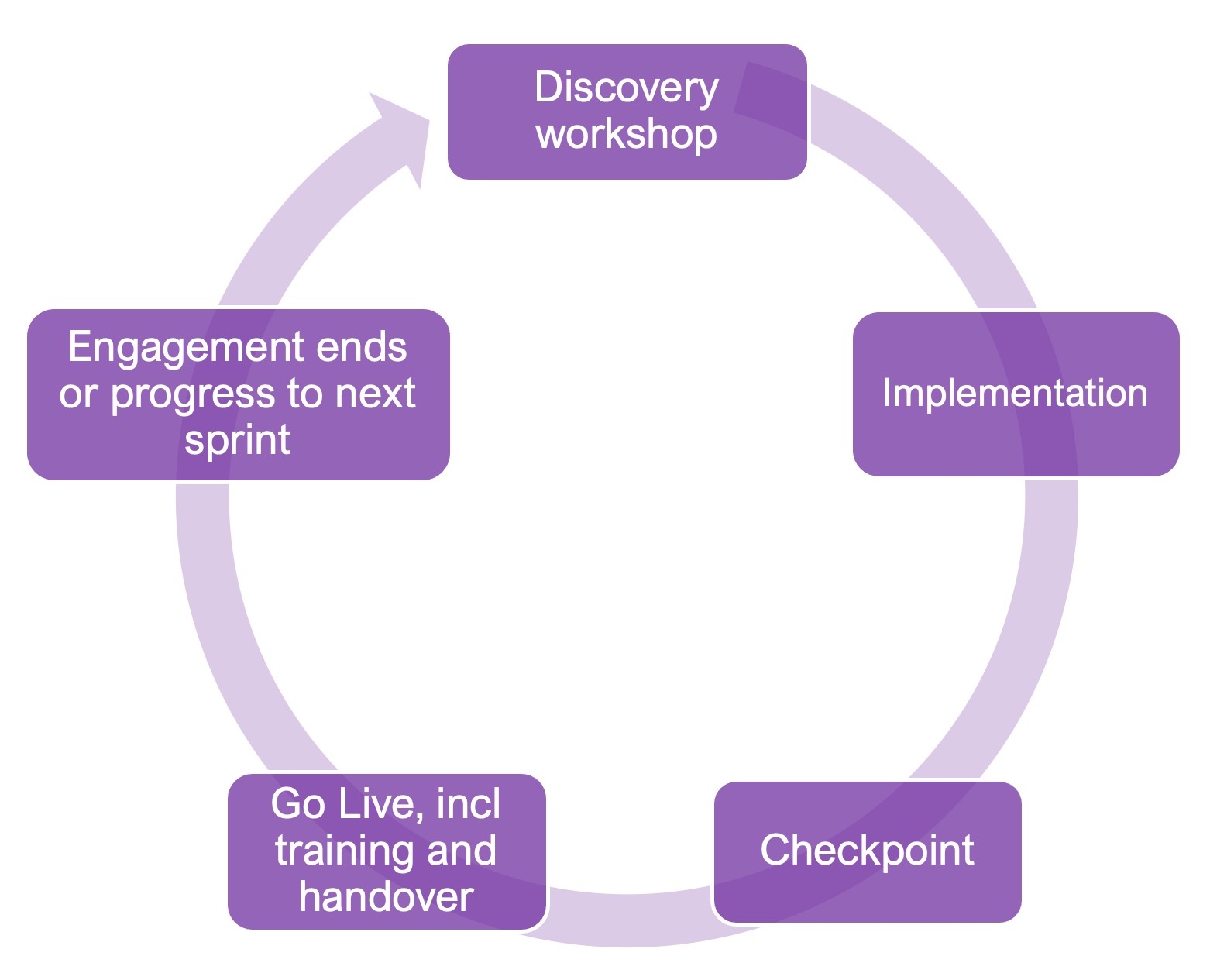 Discovery – We deploy a senior consultant to fully understand what you need to achieve, working with you to understand requirements, dependencies and priorities. The output of this session will be a backlog of activities which need to be achieved, planned on to an appropriate software tool (e.g. Jira) with visibility given to you so you can clearly monitor progress, outcomes and blockers.
Implementation – In this phase we deploy an engineer to do the implementation of the specific activity. We use the breadth and depth of expertise in our organisation to bring the right person to the project. Depending on a particular data source you need to work with, integration you need to make or if you require a visualisation and dashboarding expert we can bring the person with the best skills. In addition, if you wish to make faster progress we can deploy more than one person to this phase, thereby shortening the time taken to complete the work. The length of the implementation phase is typically offered in 3 sizes, depending on the complexity of your task;
Go Live – We ensure everything is running properly in the live environment and provide any required handover, training and documentation on what has been done. Importantly, any work carried out gets put into the 'catalogue' of items included in the care service. This ensures that any new features, use-cases, alerts and searches are fully supported.
22 September 2023

1 September 2023
See how we can build your digital capability,
call us on +44(0)845 226 3351 or send us an email…